Core Value
Many benefits below will persuade you to buy this theme
Multiple headers & footers
Our theme comes many headers and footers types that you can customize your website exactly the way you want.
Unlimited custom color variations
Select and set dozens of color for your elements which are using our Custom Color Picker
Custom Element style
Easily to change many elements for many features to enhance your website
100% Responsive
This WPFoody theme is completely compatible with desktop, tablet, and smartphone. You will have a great layout in any devices
"Menu" layout for product category page
Theme Options by Redux Framework bring to you the easy way to change theme options like logo, color, fonts, shop page, header, footer,…
Multi layouts for product category
You have many options to show your category with products on list or grid and you can change its content also.
Multi layouts for product detail page
You can edit title, sidebar, meta layout, and tons of things to make your product page beautiful
Dozen of Blog category layouts
Amazing features that will make your blog or magazine stand out among others
Various Google Fonts
Over 800 google font which you can use and upload. Being stored on Google's servers, displaying them will be fast & reliable.
Powerful typography feature
Easily change and control your typography as well as fonts style to make your site stand out of your competitors.
3 Unique Demos
We have just updated more layouts to adapt customer needs
20+ Unique Pages
With 20+ pages in this theme, your customers will be impressed and stay on your site longer
THE POWERFUL CORE THEME
Create anything without coding with this core to make your site stronger and high level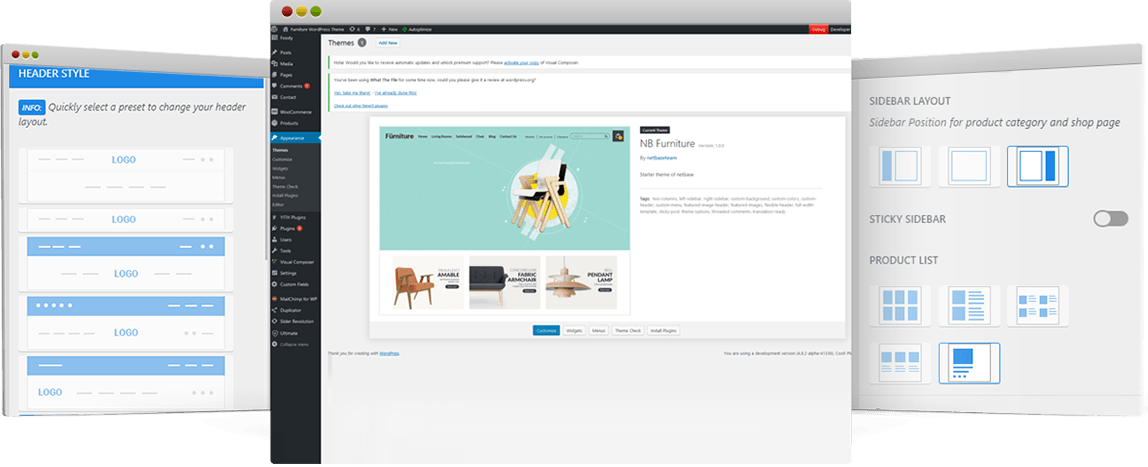 Easy to configure

Fast Speed

Focus on Woocommerce features

Live Edit/Preview Page
Dokan

Multi vendor Feature

Dokan Lite - it is a free plugin that can be downloaded 
Dokan PRO - it is a premium plugin that need to be purchased separately
Marketplace With Independent Stores
Similar to eBay stores, it allows anyone to set up their own store within minutes, turning your website into a full-fledged marketplace.
Dashboard For Each Seller
Customers and Vendors get access to a simple, straightforward dashboard that allows easy management of product inventory, including sales, discounts, and promotions.
Earn From Each Sale
You can charge your sellers a percentage for each order, giving them an e-commerce solution free of any monthly fees. A fair commission model allows both parties to share the success of your marketplace!
Birds Eye View With Reports
Every seller can see his/her own sales report and see a birds eye view on the sales they are making.
Coupon Management
Every seller manages their own products and discounts they offer. What's more, create discount coupons for special sales!
Individual Stores
Sellers get their own store page with their own branding.
Manage Product Reviews
Each seller manages their own product reviews independently. Delete, mark as spam or modify the product reviews on the fly
Manage Orders
Each seller manages their own orders, mark orders as pending or processed, view the shipping and billing address and ship the product
Review Product Publishing
Each seller manages their own orders, mark orders as pending or processed, view the shipping and billing address and ship the products.
Easy Seller Withdraw System
The seller can make withdraw the request to admin. Admin can set the minimum to withdraw limit three enterprise.
Seller Profile Completeness
It manage sellers profile completeness bar on sellers dashboard. The seller can view a profile completeness percent by the bar.
Manage SEO For Store Page
Each seller can manage SEO for their own store page. They can use custom SEO meta and description for their store page.
Each Seller Setup Their Store Settings
The seller can setup the store from their settings on seller dashboard.
Seller Payment Method Setup
The seller can manage their payment methods from their dashboard settings. They can also set the withdraw method.
Shipping Management For Each Seller
Each seller can manage and set global shipping for their store and override shipping rate from products.
pages
You can see all information of each vendor and manage it with Vendor store and Vendor information management
See The Core Theme Work
Our video belo will show many function of the core theme that makes you surprise
Our Testimonial
Don't just hear from our side, hear from our beloved customers as well
Your Furnione template is an excellent theme that I have never used before. The functions and features is great and suitable for my site, even installation save my huge time. Thanks friends!
Victor - CEO
Congratulations! Nice Work, Good Luck With Sale
ThemeCuriosity - Marketer
Great job. Impressive design and functionalities. Good luck with the sales
Alisia - Designer